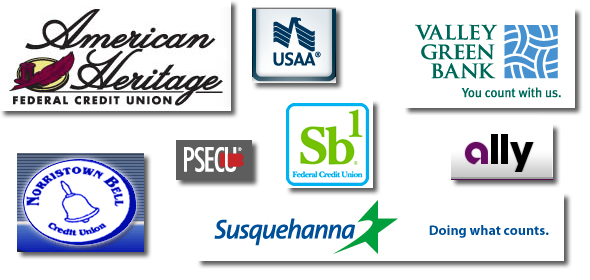 Credit unions, local banks, and online banks (above: a selection of just a portion of those available in my neighborhood, including my own credit union) offer better service and lower fees than major banks.
Use a credit union, online bank, local bank, or no-fee/low-fee credit card to keep foreign transaction fees (and all other bank fees) to a minimum
Do you hate your bank? Don't worry; Most people do.
After all, banks exist solely to make money from playing sophisticated cup-and-ball games with your money (and look where THAT landed our economy by 2008).
Most people look upon their bank as a necessary evil of everyday life. It doesn't have to be that way.
Big banks are beholden only to their shareholders and their quarterly profit reports, not to you. You are the cow they milk for cash.
Tired of saying "moo" every time you hit an ATM and are charged a $2.50 fee? The solution is simple: break up with your bank and join a credit union, online-only bank, local bank, or other financial institution that exists not so much to make money off of you as to provide you with excellent, largely fee-free services, including fee-free ATM usage and no foreign transaction fees.
How to break up with your bank